Top Stories
India clinched their first series victory on New Zealand soil in 41 years as the third Test ended in a draw, giving India a 1-0 lead.
Dravid snaps his 182nd catch in 134th Test, at third slip during lunch session in New Zealand to go past former Australian batsman Mark Waugh (181 in 128 Tests).
Zak the knife
As India begin their tough tour of New Zealand, they have a man at the peak of his powers , writes Sharda Ugra.
The final frontier
With the world number one ranking on their minds, Team India must rewrite history in New Zealand.

In her latest post,

Firework Factory

, Sharda Ugra says that the 'best batting line-up' of the Indian cricket team is still in the making .

More »
Advertisement
India's 1st overseas Test series win was against Kiwis in 1968.
India won a Test series on New Zealand soil 41 years ago.
India lost 3 Tests in previous tour to New Zealand in 2002.
Black Caps also won the ODI series by 5-2 in 2002-03.
Under Dhoni, India have won 28 of 46 ODIs and 6 of 10 T20s.
Only 6 players in the current Indian squad have played a Test matches in New Zealand.
Dick Motz was the 1st New Zealander to take 100 Test wickets.

It's not about being favourites: Dhoni
India's recent success against top sides like Australia notwithstanding, skipper Mahendra Singh Dhoni on Friday said his team does not start favourite against New Zealand.
'Dhoni's team stronger than the 2003 side'
India's former coach John Wright believes Mahendra Singh Dhoni's team has a more balanced look than the one that lost both the Tests here under his tutelage six years ago.
Tendulkar is the highest run-getter against New Zealand.
Stephen Fleming is New Zealand's most capped Test player with 111 appearances.
Nathan Astle is the 1st Kiwi player to score 5,000 ODI runs.
Martin Crowe is the only player to have been out for 299.
Kiwis have made the lowest ever Test innings total (26) .
ADVERTISEMENT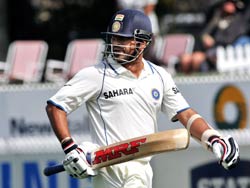 Sachin's ton props India
More »
Date
Venue
Time (IST)
20-20
Feb 25
AMI, Christchurch
11.00 am
Feb 27
Westpac, Wellington
11.00 am
ODI
March 3
McLean, Napier
6.00 am
March 6
Westpac, Wellington
6.00 am
March 8
AMI, Christchurch
6.00 am
March 11
Seddon, Hamilton
6.00 am
March 14
Eden, Auckland
6.00 am
TEST
Mar 19-23
Seddon, Hamilton
3.15 am
Mar 27-31
McLean, Hamilton
3.15 am
April 4-8
Westpac, Wellington
3.15 am
Will India repeat their ODI success story in Tests?