India's Moon Odyssey » Videos

Print

E-mail

A+
A-
A
Countdown begins for moon mission
The Polar Satellite Launch Vehicle (PSLV) will carry the Chandrayan on an unmanned flight to the moon on November 22. The vehicle will be launched from Sriharikota off the Bay of Bengal.
ADVERTISEMENT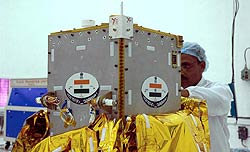 Chandrayaan reaches its destination
More »
Poll

Should India spend Rs 3.8 bn to launch the spacecraft in a time of economic depression?