The Curse of Kosi » Video
Bihar floods: Tales of misery
Despite rescue workers trying their best to reach out, thousands of people have lost all their belongings and loved ones.
Bihar flood situation worsens
Chief Minister Nitish Kumar appeals to the people to leave areas close to the Kosi river even as authorities try to reach out lakhs of displaced people.
15 lakh marooned in Bihar
At least 50 people are dead in floods caused by a change of course of Kosi river. Six districts near Nepal are completely submerged. The death toll is likely to go up.
ADVERTISEMENT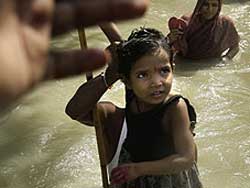 Human trafficking follows floods
More »
Is our government well equipped to tackle exigencies of such a large scale?