The Curse Of Kosi » Nature's Fury
Orissa
Floods in Orissa in 2008 claimed 11 lives and affected over 1.5 million people in about 1,600 villages. More than 20,000 people were rendered homeless in Balasore, Bhadrak, Kendrapada, Jajpur, Keonjhar and Mayurbhanj.
Uttar Pradesh
31 people were killed and over 100 injured in heavy rains that lashed Uttar Pradesh in August 2008, triggering house collapses, flooding low-lying areas and snarling road traffic.
Punjab
Breaches along embankments of the Sutlej river in Punjab in mid-August this year affected over 150 villages in Moga, Ferozepur, Kapurthala and Jalandhar. Thousands of acres of fertile land with sown paddy crop were inundated.
Andhra Pradesh
Heavy rains in Andhra Pradesh claimed 12 in early August this year. The rains, caused by a depression in the Bay of Bengal, flooded rivers and streams, inundated low-lying villages, threw normal life out of gear and damaged properties and crops in several districts.
ADVERTISEMENT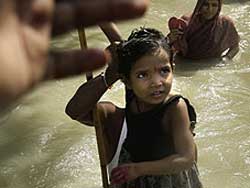 Human trafficking follows floods
More »
Is our government well equipped to tackle exigencies of such a large scale?