Latest News
This year in December, when the water level subsides, both India and Nepal will work together to repair the ravaged embankment of the Kosi by March 2009.
The government has started an initiative focussed on helping those separated by the worst floods in the state in over 50 years.
Advertisement
9 lakh people evacuated so far
38.28 lakh people, over 2,000 villages, 16 districts affected
315 relief camps set up
Official death toll stands at 82
77,375 food packets air-dropped
State government's relief so far: Rs 51.38 lakh
2.33 lakh hectares of cropped area has been affected
95% of total flow of Kosi is flowing through the new course
3.15 lakh houses damaged due to Kosi's fury

'Need for water management a priority'
Deputy chairman of Planning Commission Montek Singh Ahluwalia says, "The Bihar floods underline the need for storing water by building dams."
On a train to a new beginning
Two years ago waters claimed her husband. Now, they've take away her two sons. Madhu Devi is in a train full of flood victims, yet all alone.
More »
Uttar Pradesh, August 2008
31 killed, over 100 injured as heavy rains trigger house collapses and flood low-lying areas
Punjab, August 2008
Over 150 villages are affected and thousands of acres of fertile land is inundated as the Sutlej breaches its embankments
More »
ADVERTISEMENT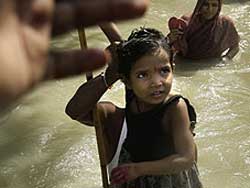 Human trafficking follows floods
More »
Is our government well equipped to tackle exigencies of such a large scale?