India's Moon Odyssey » Top Stories

Print

E-mail

A+
A-
A
Chandrayaan-I lifts off successfully
India's first lunar spacecraft Chandrayaan-1 started to cruise around the earth in its designated orbit on Wednesday morning, minutes after a copybook liftoff launched the country into the elite club that has sent missions to the moon.
Chandrayaan all set to take off
The countdown has reached its advanced stage and India's maiden moon mission is all set to lift off as rains have stopped and weather is crystal clear.
'Chandrayaan could spark lunar land grab'
As per a British newspaper, India's lunar mission could spark of a race for mineral wealth on the lunar surface.
Chandrayaan to carry NASA's instruments
India's maiden moon mission will carry two instruments from the American space agency National Aeronautics and Space Administration (NASA) which will assess mineral resources and map the polar regions and look for ice deposits.
Countdown to India's mission moon begins
With the countdown starting at 5.22 a.m., about 1,000 scientists and technologists are working round-the-clock to send India's first spacecraft mission beyond earth orbit from the picturesque spaceport, located on an island about 80 km from Chennai.
Chandrayaan: India's moon odyssey
While building India's first moon craft, Chandrayaan project director Mylswamy Annadurai was reminded of his engineering college days when he wrote lyrics to the tunes of his classmates.
Mission moon: The young are gung ho
The credit for generating interest about the moon among the school and college-goers goes to India's lunar explorer, Chandrayaan-1 which is all set to be launched Oct 22 from the Satish Dhawan Space Centre in Sriharikota, Andhra Pradesh.
Space network, a 'hotline' from Bangalore to moon
When India's first lunar spacecraft Chandrayaan-1 lifts off from Sriharikota, the telemetry, tracking and command network (Istrac) of the space agency in Bangalore will guide the mission on its 18-day voyage to the moon's polar orbit.
1
2
ADVERTISEMENT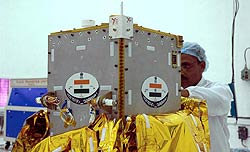 Chandrayaan reaches its destination
More »
Poll

Should India spend Rs 3.8 bn to launch the spacecraft in a time of economic depression?