Best Bank Awards
Best CFO Awards
Best Managed Company Awards
Most Powerful Women in Business Awards
Knowledge Management Forum
Boardroom Breakfast
Acumen
Pro-Am of Champions
Managing Tomorrow Series
Crossfire
Best Companies To Work For In Award
Tee in the Dark
From India
From Outside India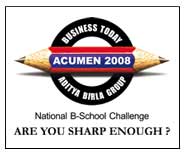 ACUMEN – a unique path breaking initiative started by Business Today in 2002, presented by Business Today and Aditya Birla Group is a national Business School Challenge on Quiz and Debate. India's best B-schools match their wits against each other - more than the usual display of debating and quizzing skills. Over 150 institutes participated in a nail biting competition last year. There are four regional rounds in Delhi, Mumbai, Bangalore and Kolkata followed by the grand national finals in New Delhi.

ACUMEN brings together the best talent from the country's B-Schools. This is where one sees minds battle, strategies drawn and leaders evolve. With electrifying debate rounds, exciting quiz questions and an enthusiastic audience raring to take on the challenge as well, the event provides for an intense battle of wits, strategy and reflex. The audience too have a lot to gain - with gifts from various Acumen sponsors.

On campus after campus for the 7th consecutive year now, ACUMEN has acquired the status of a national brand. Its own insta-recognition logo (the unmissable double-end sharpened pencil), its own consistency of event attributes, its own buzz-generating capacity and even its own set of devotees.

With Harsha Bhogle as our Quiz Master, ACUMEN is bigger, stronger and sharper. "The event will be held within the months of August- December followed by finals at New Delhi in December 2008." To "This year the regional rounds were held during August – November followed by the finals to be held at New Delhi on 13th December 2008".

ACUMEN invites participation not only from the best of B-School in India but also from the B-School alumni working in the corporate sector. Acumen, it must be said, has already become something an aspiring CEO puts on his curriculum vitae.
HOME
ABOUT US
PAST EVENTS
PIC GALLERY
SPONSOR OPPORTUNITIES
CONTACT US

Global, Local
& Very Vocal