Best Bank Awards
Best CFO Awards
Best Managed Company Awards
Most Powerful Women in Business Awards
Knowledge Management Forum
Boardroom Breakfast
Acumen
Pro-Am of Champions
Managing Tomorrow Series
Crossfire
Best Companies To Work For In Award
Tee in the Dark
From India
From Outside India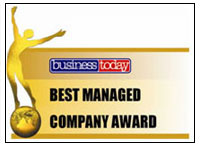 Now into its 4th year. India's Best Managed Company, an exercise conducted jointly by Business Today and A T Kearney, this evening is recognition of India's Best Managed Companies, organizations that celebrate excellence. These are companies that stand out from their peers — by the sheer vision of their leaders, by their efficient processes, by good governance. They are the ones that develop and exploit growth opportunities while ensuring the right balance between profit and growth as strategic co-objectives. Last year On the evening of March 11, 2005 India Inc. turned out at ITC Grand Central Hotel in Mumbai to celebrate excellence. Business Today honored India's Best Managed Companies. The who's who of corporate India was there at the awards function as 13 of the finalists made their way to the stage to receive awards.

BEST MANAGED COMPANY AWARDS : BEST MANAGED COMPANIES


BEST MANAGED COMPANY AWARDS : Click here to see the Pic Gallery
HOME
ABOUT US
PAST EVENTS
PIC GALLERY
SPONSOR OPPORTUNITIES
CONTACT US

Global, Local
& Very Vocal