Best Bank Awards
Best CFO Awards
Best Managed Company Awards
Most Powerful Women in Business Awards
Knowledge Management Forum
Boardroom Breakfast
Acumen
Pro-Am of Champions
Managing Tomorrow Series
Crossfire
Best Companies To Work For In Award
Tee in the Dark
From India
From Outside India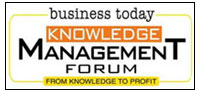 Learn from management gurus and business titans. Debate and discuss with them. Socialize with colleagues and competitors. Get inspired. Go back, and earn profits for their organization. That's the idea behind this initiative. The Business Today Knowledge Management Forum is generally a day long workshop aimed at middle to senior management executives who want to leverage knowledge in their organizations. Now into its 4th year, the Knowledge Management has so far featured Jagdish Seth, Elizabeth Coffey,Jack Trout, Lawrence D.Crosby & Vijay Govindarajan.
HOME
ABOUT US
PAST EVENTS
PIC GALLERY
SPONSOR OPPORTUNITIES
CONTACT US

Global, Local
& Very Vocal