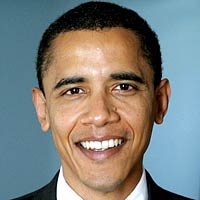 Barack Obama, a first-term senator from Illinois, would be the first African-American president of the United States if elected. Serving in the Senate since 2004, Obama introduced a bipartisan law allowing Americans to learn online how their tax dollars are spent. He also serves on the Veterans' Affairs Committee, which helps oversee the care of soldiers returning from Iraq and Afghanistan.
Entering politics in 1996 with an unopposed election to the Illinois state senate, Obama, 47, burst onto the national stage in 2004 with an electrifying keynote address to the party forum in Boston calling for an end to America's divisive politics.
Obama has come a long way from Hawaii where he was born on August 4, 1961. He was only two when his father left Hawaii to pursue a degree at Harvard University and later returned to Kenya. Obama saw him only once again when he was 10.
Obama later lived with his mother and stepfather in Indonesia until age 10, when he moved back to Hawaii to live with his maternal grandparents.
In his 1995 autobiography, 'Dreams from My Father', Obama describes a troubled adolescence in which he struggled with his biracial identity. He acknowledges that he used marijuana and cocaine.
After high school, Obama attended college in Los Angeles, California, and New York before working as a community organiser on the south side of Chicago, Illinois, from 1985 to 1988.
He then attended the Harvard Law School, where he became the first black president of the prestigious Harvard Law Review, and returned to Chicago after graduating in 1991 to work as a civil rights lawyer and teach constitutional law. There he met his future wife, Michelle Robinson, a Chicago native.
Michelle is also a graduate of the Harvard Law School and was working as a lawyer when the two met. She later worked at the University of Chicago, serving in many positions, including executive director of community and external affairs. The Obamas have two young daughters.